12 Amazing Cultural Festivals You Must Attend in Your Lifetime
The go-to resource for planning unforgettable travel experiences. Find all you need to know about the top destinations and enrich your life through travel.
Discover Holidays now
Everywhere you turn and at any given moment, people are celebrating something. And why shouldn't they be? Life, beauty, heritage, family, love, even death, all deserve to be honored.
If you're looking to soak up the local vibes, trace back the roots of a nation as well as your own, and have an authentic experience that goes far beyond sightseeing, travel the world to attend its many cultural events.
Stay with me as I walk you through the cultural festivals you simply must add to your world travel bucket list. From carnivals and religious events to food festivals and street fights, some are awe-inspiring, others are life-changing, and some are downright crazy. Clear your calendars and plan your travels so that you can attend the ones you haven't already checked off.
» Are you looking to discover unique and intriguing traditions and customs? Join a cultural country tour and explore the world's most fascinating places like a local!
1. Up Helly Aa Fire Festival, Scotland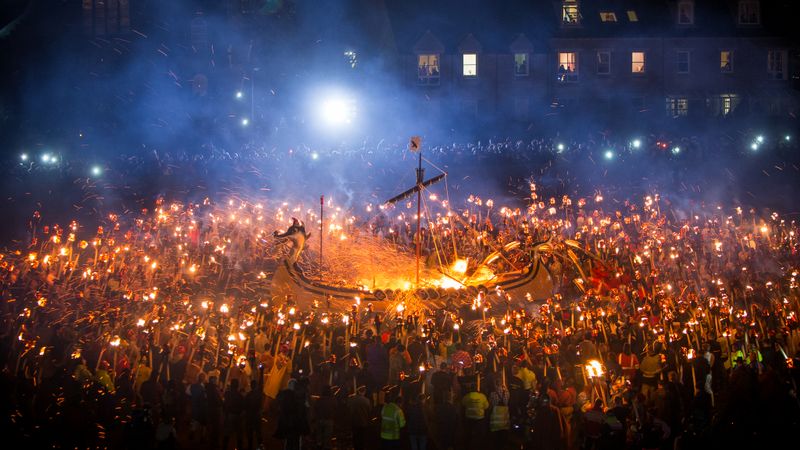 Photo credit: David Gifford / shetland.org
Where: Most cities across the Shetland Islands, Scotland
When: January 28th, 2020
Each year, on the last Tuesday in January, the Vikings come to town! Up Helly Aa is a Viking-themed festival that is celebrated in most cities in the Shetland Islands. However, the biggest festivities take place in Lerwick, paying a tribute to the islanders' Viking heritage (Vikings controlled the archipelago for over 500 years until 1468).
Photo credit: Vicky Brock via Flickr
Self-proclaimed as Europe's largest fire festival, the 24-hour event features performing acts, marches, and a torch-lit procession. The festival culminates with the throwing of the torches into a Viking longship and watching the galley burn in the dead of night.
2. Carnevale di Venezia, Italy
Where: Venice, Italy
When: February 8 – 25, 2020
A tradition that can be traced back 900 years, the Venice Carnival was that time of year when people could break free of their shackles. Behind their masks, they could be anyone they wanted to be, do whatever they pleased, poor and rich alike. All boundaries disappeared.
Each year, in the weeks leading to Shrove Tuesday, locals and tourists take to the streets of Venice wearing masks and costumes from a bygone era, while the canals fill with colorful gondolas and boats.
The Venice Carnival means two weeks of debauchery and masquerades. Parties and masked balls echo well into the dead of night. The fabled city of water turns into a real-life fairytale, with parades, concerts, fashion shows, and markets.
3. Rio Carnival, Brazil
Photo credit: Carnaval.com Studios via Flickr
Where: Rio de Janeiro, Brazil
When: February 21 – 26, 2020
It is the biggest party on Earth, and that's no overstatement. The Rio Carnival is held each year in February or March, starting on Friday and ending on Ash Wednesday, preceding the Catholic Lent. 'Carnival' is derived from the Latin 'carne vale', meaning 'farewell to meat', but the celebrations also mark the end of the hot Brazilian summer.
Photo credit: Joseph King via Flickr
For one week, locals and tourists party non-stop. Samba music, colorful costumes, and mind-blowing parades fill the streets of Rio de Janeiro. It is a unique combination of Portuguese and African culture. Around 200 samba schools participate and a whopping five million people attend each year.
4. Mardi Gras, USA
Photo credit: Will Montague via Flickr
Where: New Orleans, Louisiana, USA
When: February 25th, 2020
Literally meaning Fat Tuesday, Mardi Gras is celebrated each year on Shrove Tuesday, the day before the start of Lent. It symbolizes the last day that Catholics can indulge, and the end of the Carnival season.
The origins of Mardi Gras can be traced back to medieval Europe and, although it is celebrated in many cities around the world, there's no party on Earth quite like the one in New Orleans. It's the last chance to let loose before fasting, and people just go wild. Locals and tourists take to the streets, eating delicious foods, attending masked balls and colorful parades, wearing brightly colored clothes, and handing out shiny strings of beads, also called "throws."
5. St Patrick's Day, Ireland
Photo credit: Aurelien Guichard via Flickr
Where: Dublin, Ireland and many other locations worldwide
When: March 17th
There is one day in the year when wearing green attire and shamrocks is mandatory, and those who don't comply should be pinched. This happens throughout Ireland on St Patrick's Day, when the streets fill up with traditional songs, dance shows, and street parades.
Although celebrated in many other major cities in the world, there's really no better way to experience St Patrick's Day than in Dublin.
St Patrick's is a cultural and religious holiday that celebrates the patron saint of Ireland and commemorates the arrival of Christianity in Ireland. It is also a celebration of all things Irish. Lenten restrictions are lifted for the day, which is why the holiday is often propagated as a tradition of alcohol consumption. Beer, usually dyed green, and whiskey are typically consumed on St Patrick's Day.
6. Holi, the Festival of Colors
Where: India, Nepal, and Pakistan
When: March 9 – 10, 2020
Celebrated by Hindus all around the world, Holi is one of the biggest religious festivals. Also known as the Festival of Colors, it has been adopted in various locations worldwide.
Holi is a festival of love and colors, singing and dancing, celebrating the prevalence of good over evil, the end of winter, and the fertility of the land. The festivities begin with Holika Dahan, on the evening of the full moon in March, when people gather around a bonfire symbolizing the burning of the demon Holika.
Rangwali Holi, the actual festival of colors, is held on the very next day. Locals and tourists throw around water guns and colored-water-filled balloons, smearing colored powder on friends, relatives, and complete strangers on the streets.
7. Songkran, Thailand
Photo credit: John Shedrick via Flickr
Where: All over Thailand
When: April 13th – 15th each year
The Thai New Year falls on one of the hottest days of the year, and what better way to celebrate it than by getting soaking wet on the streets?
The most anticipated holiday in Thailand is one huge water fight. People arm themselves with water guns, hoses, buckets, or water bags. Sometimes, chalk or menthol is added to create a paste that people smear on each other's faces, which is believed to bring good fortune. The menthol is simply added for its refreshing effect.
For Thai people, sprinkling water symbolizes blessing, purging, and new beginnings. Songkran is derived from the Sanskrit word for "astronomical passage", and is a three-day water fight no one can escape. You cannot walk out of the house without getting wet.
8. La Tomatina, Spain
Photo credit: tomatofestivalspain.com
Where: Buñol, Valencia, Spain
When: August 26th, 2020
What originated as a food fight among friends in 1945, has grown into the "world's biggest food fight", as the organizers call it. What to expect? Tomatoes. Lots and lots of tomatoes. Add some music and dance to the mix, and there you have it – La Tomatina!
The ultimate food fighting festival is held each year on the last Wednesday in August. The tomato fight lasts for one hour, during which time 100+ tons of over-ripe tomatoes are squashed and thrown all over. There's tomato dancing, a giant tomato shower, and even tomato-streaked slides. At the end, the streets of Buñol are ankle-deep in a river of tomatoes.
9. Burning Man
Photo credit: Duncan Rawlinson via Flickr
Where: Black Rock City, Nevada, USA
When: August 30 – September 7, 2020
To call the Burning Man a festival is somewhat of an insult. But, it definitely deserves a place on our list. "Burning Man is a community. A temporary city." Held the week prior and including Labor Day weekend each year since 1986, the event invites the attendees, called 'Burners', to escape the conventions of society, express their individuality, explore various forms of artistic self-expression, and party 24/7.
Burning Man is often described as a transformative experience, and only those who participate can truly understand what it's all about.
Photo credit: Duncan Rawlinson via Flickr
Over 70,000 people attended Burning Man in 2019, and there were over 130 musical acts. Every year, a temporary city is built in the middle of the Nevada desert, complete with tents, RVs, roads, signage, and bathrooms, for nine whole days of alternative living. On Saturday evening, a giant wooden effigy is set on fire. This ritual burning is where the event draws its name.
10. Oktoberfest, Germany
Photo credit: Topdeck Travel
Where: Munich, Bavaria, Germany
When: September 19 – October 4, 2020
Oktoberfest, widely associated with huge pints of beer and beautiful waitresses wearing traditional Bavarian costumes, is so famous, that it has been replicated in many major cities across Europe and even the US. However, the world's largest beer festival takes place each year in the last two weeks of September up to the first week of October in Munich.
Oktoberfest was born in 1810, when the marriage of Crown Prince Ludwig of Bavaria and Princess Therese of Saxony-Hildburghausen was celebrated for five days just outside Munich. The townspeople had such a great time that they decided to repeat it every year. Today, the 16-day event takes place on the same meadow where it was originally held, and welcomes over six million attendees who consume around seven million liters of beer.
11. Albuquerque International Balloon Fiesta, USA
Where: Albuquerque, New Mexico, USA
When: October 3 – 11, 2020
Each year in early October, hundreds of balloons are lifted up into the air, filling up the sky. The Albuquerque Balloon Fiesta is the largest hot air balloon festival in the world and one of the most photographed events on the planet – it is estimated that around 25 million photos are taken during the event.
People of all ages gather to witness morning and evening mass launches, balloon competitions, balloon glow, and fireworks shows. The nine-day festival draws quite a crowd, with nearly one million people attending each year.
12. Dia de los Muertos, Mexico
Photo credit: Malingering via Flickr
Where: Throughout Mexico
When: November 1st – 2nd, 2020
Often confused with Halloween, Dia de Los Muertos has nothing to do with it. And despite the costumes, it is not spooky either.
Just as depicted in Pixar's Coco, Dia de Los Muertos is a ceremonial gathering of family and friends, who pray and remember those who have passed. The Day of the Dead can be traced back 3,000 years, to the time of the Aztecs, and is a combination of pre-Hispanic rites and Christian traditions. Today, it is not only celebrated throughout Mexico, but by Mexicans in the US, Canada, and Europe.
The two-day event coincides with the Catholic holidays All Saints' Day (November 1st) and All Souls' Day (November 2nd). It is a unique blend of remembrance and festivities, and dressing up is part of the fun.
Private altars, called ofrendas, are built using the deceased's former possessions and favorite foods, marigolds, sugar skulls, and pan de muerto (a sweet bread made for this event). People visit the family graves, clean them up and decorate them with candles and flowers. They have picnics, and sing and dance to mariachi bands in the cemetery. People of all ages dress up in colorful costumes and paint their faces to resemble skeletons, which only adds to the fun.
---
Have I managed to spark your curiosity? Discover the world as a local by embarking on an authentic country tour and plan your travels wisely so that you cross paths with the cultural festivals listed above.