13 Interesting (& Bizarre) Christmas Traditions You May Never Heard Of
The go-to resource for planning unforgettable travel experiences. Find all you need to know about the top destinations and enrich your life through travel.
Discover Holidays now
No matter how much of a Christmas lover you think you are, I bet you're still going to be awed (or shocked) by this list of unusual customs. Chances are that you may have heard of a tradition from this list, but perhaps only if you're a native of the country where it's observed.
The one thing all areas of the world have in common is that the winter holidays are an exciting time. Even the countries which don't have a Christian majority still observe these holidays in some way or another, whether they call it Christmas or not. In the end, it's all about remembrance of the ancestors, family, community, hearth, and warmth.
But beyond these common themes, there are sometimes huge differences between the ways everyone celebrates these holidays. Here's what we mean by it, and the places where you should go travel if you want to witness some really interesting cultural phenomena.
1. El Caganer (Pooping Figurine) in Spain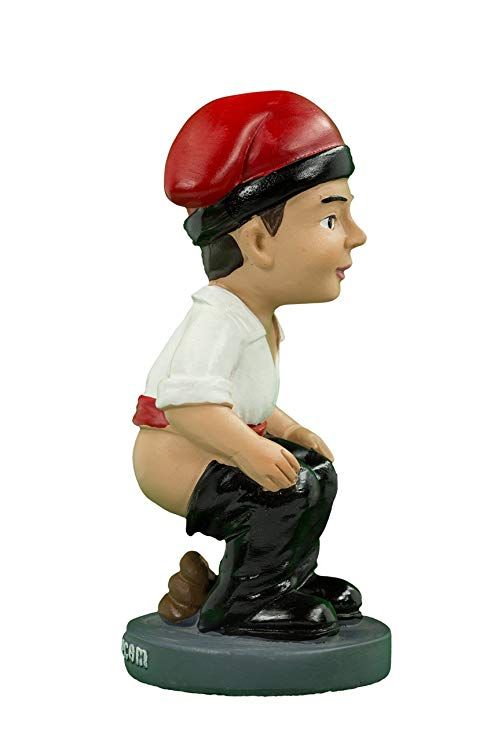 Image source: Amazon
We'll start our top of weird ways to celebrate Christmas with one of the funniest Old-World tradition. The Catalonia region of Spain (around Barcelona) is known for its somewhat unorthodox wooden toys and statuettes. El Caganer (which would roughly translate as The Pooper) is one of them. A mysterious figure that insists on pooping wherever he's placed, this dwarfish, leering figure is part of any Christmas stall or arrangement of figurines. He's even placed in Nativity Scenes.
Caganer figurines of famous characters and people in a souvenir shop in Barcelona. Photo source: Barcelonas.com
Usually, he's wearing the red Catalan cap and is depicted as a local peasant. Still, more modern renditions of this folk figure sometimes use the image of celebrities to depict him. Spanish or British royalty or American Presidents have made the headlines when Caganer figures recently borrowed their faces, for example.
2. Eating at KFC on Christmas Day in Japan
Image source: Metro.co.uk
Most of us associate Christmas food with the pleasure of a home-cooked meal, such as the one prepared by our parents or grandparents. Even when we're not exactly eating traditional food for Christmas, we're still aiming at enjoying a hand-cooked feast.
Some regions favor a scrumptious roast and a few sides. Regardless of the preference for the main course, almost every country has some variations of the Christmas cookies we all crave come December.
Still, most of us would never dream of junk food being the top choice for the Christmas meal, right? Enter Japan. The popularity of KFC as a Western food rose steadily here, but it always spikes around Christmas. In 2016, an estimated 3.6 billion Japanese people celebrated Christmas with Colonel Sanders' food. This is so surprising from an outsider's perspective especially because Japanese home cooking is so amazing, and definitely better than fast food.
3. Krampus (Evil Santa or Bad Santa) in Austria
Photo source: HistoryThings.com
Santa isn't always about the gifts and goodies. We may have all heard the warnings of parents and grandparents in our childhood, saying that if we're not good, Santa won't bring us a good present. But for Austrian children, the downside of being bad may be even worse than Santa's diminished attention. They just might attract the wrath of Krampus.
Krampus is a mythical half-beast half-man figure which can be summed up as a Bad Santa. He comes to punish naughty children by taking away their existing toys or even swatting them with the birch branches he carries. He is one of the traditional companions of St Nicholas (the old Santa Claus equivalent), but he definitely represents the stick from the old carrot-and-stick saying.
Folklorists believe he has pre-Christian Alpine origins. His tale was brought to life in the recent Krampus movie, so if you find him intriguing, you should check it out.
4. The Pickle Ornament in Germany
Photo source: NY Times
The past centuries nurtured a strong Christmas tradition in Germany, leading to the country's wonderful variety of wooden toys, gloriously detailed Nativity scenes and numerous kinds of winter cookies and confections. One stranger element of all this, however, is the Christmas pickle. If you've ever seen one of those hung from a branch of a Christmas tree and wondered what's that all about, here's the scoop.
In traditional German celebrations, a pickle was hidden among the ornaments adorning the tree. After the grown-ups revealed the holiday tree to the children, they would set off on a race to see who finds the pickle first. The winner would get an extra small present, or the chance to open his or her presents first.
In time, the actual pickle was replaced by a wooden pickle, sometimes painted in green (to preserve its cover among the green leaves of the tree). Some of the early German settlers brought it to the U.S., where people continued using this strange ornament, even if its meaning (and game) were lost. Still, not even in Germany was this custom very wide-spread, so it's understandable why the pickle became somewhat of a mystery.
5. Zwarte Piet (Black Peter) in The Netherlands
Image source: Africasacountry.com
This controversial tradition has been undergoing some transformations in the modern age, in an effort to eliminate its racist undertones. The original story goes like this: on Christmas Eve, Sinterklaas (Santa Claus) arrives in style, on a steamship, accompanied by his slave Zwarte Piet (Black Peter). The parallels with slave ownership are made even more harrowing by the ship in which they arrive.
Black Peter is meant to be the white Santa's helper (or slave), but he is also a boogeyman for Dutch kids. They were traditionally told that Zwarte Piet will take them with him if they misbehave. Since people started being concerned by racism, there were attempts to downplay this tradition by making Zwarte Piet out to be a chimney sweeper instead of a slave, as a way to explain the black face. Still, other racial marks such as the Afro hair remain.
Photo source: The Zwarte Piet Documentary.
While some people consider the processions with Zwarte Piet just a piece of harmless holiday fun, others are pretty put off by the racist and slavery undertones of this Dutch holiday theme. Debates on whether it should be allowed to continue have divided the country fiercely over the past few years.
6. Mari Lwyd (Gray Mare) in Wales
Photo source: Mark Rees on Twitter.
A truly fascinating and very ancient practice, the Mari Lwyd folk custom is a remnant of pagan times in Wales. In its purest form, this custom can be observed in and around Llangynwyd, near Maesteg. It's not a sight you could encounter on Christmas Day, however, but on the first day of the New Year.
A party of several people carries a gray horse contraption, made from sticks, sheets to drape them and a horse face, crafted or drawn over the sheets. The party approaches the entrance to a house or a pub, where they'll sing a song, followed by a battle of wits between the people inside and the party of people outside (who are impersonating the horse). This battle of wits will consist of poetry and/or insults being exchanged as creatively as possible until one of the parties is left without a good retort. Then, the people on the outside enter the home or the pub, accompanied by another song.
The Romanian goat spirit mask (capra) costume. Photo source: HarlaulEtnografie.wordpress.com.
This fun tradition actually reminds me of a folk custom of my native Romania, also pagan in origin and also performed on New Year's Day. It's just that people will impersonate a goat (called a capra) instead of a horse.
7. The Bear-Men Masked Spirits in Romania
Image source: Diana Zeyneb Alhindawi
While we're on the topic of folk customs in my native Romania, here's how people still celebrate Christmas over here (besides the regular European traditions such as a Christmas tree, caroling and so on). If goat masks are a thing for New Year's Day, then bears are what's in around Christmas.
Called a Bear's Dance, this custom involves crafting elaborate spirit masks to be worn by a group of men, who then go visiting the neighboring homes in their community and parading in the central square. They're accompanied by drummers and other music players, and together they create a spectacular display of choreography, folk enchantments (as ancient verses, recited and shouted) and a bit of peasant magic meant to ward off evil spirits and ensure fertility for the land in the new year to come.
8. The Giant Lantern Festival in The Philippines
Photo source: Philippine Primer
The Giant Lantern Festival has to be one of the most beautiful winter holiday customs you can admire in Asia. Predictably, it takes place in San Fernando, the so-called Christmas capital of the Philippines.
In this festival, 11 villages compete for the honor of being deemed the most talented lantern makers. Elaborate designs and spectacular colors are to be expected, and each year seems to outdo the previous one.
Originally, the lanterns were about 1 meter in size, made from origami paper and lit by a candle. As the patterns have become more intricate, today's lanterns are roughly 6 meters (19.7 feet) in size and crafted from a variety of materials. The festival attracts viewers from all over the world, all come to admire the breath-taking beauty of the Christmas lanterns.
9. The Yule Goat in Sweden
Photo source: Mental Floss
This tradition isn't a very old one, but it's bound to be one of the most fun. Since 1966, the center of Gävle's Castle Square hosts a huge Yule Goat every year before Christmas. Made mostly from straw and being highly flammable, the goat measures about 13 meters (42.6 feet).
But the spectacular animal figure isn't actually the highlight of this custom. For as long as the goat was built for Advent, some people have tried to burn it down (and succeeded in some years, too). This means that other people are self-appointing themselves as the statue's protectors, making for fun winter nights spent in a sort-of-game dividing people in teams.
I wonder who will win this year: the arsonists or the watchmen?
10. The Yule Lads in Iceland
Image source: NorthIceland.is
More mischievous fun comes our way from Northern Europe, again. The 13 jólasveinar (or Yule lads) are mythical figures who visit the children over the 13 Advent nights leading up to Christmas. In a similar way to Saint Nicholas in the rest of Europe, these Yule lads leave gifts in the kids' shoes: small treats and presents for the good ones and rotten potatoes for the naughty ones.
So, each night before Christmas, Icelandic children clean their shoes and line them up before the windows and doors, waiting to see the results in the morning.
A different Yule lad comes to visit for each of the 13 nights, and they are ambivalent creatures, full of mischief, so everybody should be on their best behavior. The names of the Yule lads hint at the kind of trouble each of them is brewing: Stekkjastaur (Sheep-Cote Clod), Giljagaur (Gully Gawk), Stúfur (Stubby), Þvörusleikir (Spoon-Licker), Pottaskefill (Pot-Scraper), Askasleikir (Bowl-Licker), Hurðaskellir (Door-Slammer), Skyrgámur (Skyr-Gobbler), Bjúgnakrækir (Sausage-Swiper), Gluggagægir (Window-Peeper), Gáttaþefur (Doorway-Sniffer), Ketkrókur (Meat-Hook) and Kertasníkir (Candle-Stealer).
11. Hiding the Brooms in Norway
Image source: ExpatLiving.hk
For centuries, the eve of Christmas Day was considered a delicate time for spiritual matters in the Nordic countries. On the eve of any major holiday, actually, the borders between our world and the other become a bit blurred (hence All Hallow's Eve, also known as Halloween or the Day of the Dead).
In Norway, people believe that on Christmas Eve, evil spirits come loose and invade people's homes, looking for brooms to ride out on. Clearly, this belief was tinged with folklore about witchcraft. The most surprising and endearing fact is that there are still plenty of people who hide their brooms today in Norway, in order to protect them from being stolen by the spirits.
12. Roller Skating to Church in Caracas, Venezuela
Image source: Metro.co.uk
No one knows how the roller skating to church on Christmas Day started in Caracas. But the practice is so wide-spread, that the city shuts down all major roads, in order to help the people practice their skating safely.
After skating to mass and back home, people often convene in the streets and share roasted chestnuts, sweets and music. For the home meal, the traditional food for Christmas Day is tamales.
A cute legend says that children should tie one of their toes with a little string before they go to bed on Christmas Day, and then leave the bow hanging out the window. As other mass goers will skate by the window the following morning, the kids will know that it's time to ride out in style.
This definitely sounds more fun than most other Christmas traditions in the world, right?
13. Little Candles' Day in Colombia
Photo source: ByTheirStrangeFruit.blogspot.com
Día de las velitas, or Little Candles Day, is a special holiday observed each year in Colombia on December 7th. It's the unofficial start to the Christmas season and countdown throughout the country and consists of the most charming way to spend a winter's night.
From dusk on December 7th and until dawn on December 8th, villages and towns get littered with small, lit candles. They'll be everywhere you turn, from porches to window sills, balconies, sidewalks and streets. The candles are lit to honor the Virgin Mary on the day of the Immaculate Conception, and to also mark a grand festive opening to the holiday season. Preparing Christmas decorations also peaks around this day, when everyone is fervently getting into the holiday spirit and eagerly awaiting the even more festive days to come.
I don't know about you, but I'm definitely overcome with giddiness for the holidays after remembering all these fun ways in which people celebrate.
Where and how will you be celebrating this year?
---
Want to explore even more foreign destinations in the time of the holidays? Browse through hundreds of winter holiday vacations around the world and have your pick!