Thailand Travel: Tips for an Unforgettable Adventure in The Land of Smiles
The go-to resource for planning unforgettable travel experiences. Find all you need to know about the top destinations and enrich your life through travel.
Discover Holidays now
With 35.4 million International tourists making their way to Thailand in 2017, it's safe to say that 'The land of smiles' is one of the world's top bucket list destinations. If you have yet to visit this enchanting South East Asian country, you're definitely missing out!
From its breathtaking sceneries, historic landmarks, friendly people, and scrumptious cuisine, a trip to Thailand is worth making at least once in your lifetime. However, be warned cause once you've stepped foot in Thailand, it's bound to leave you wanting more.
Personally speaking, though I've already made more than a handful of trips to this fascinating country, I plan to return sometime soon as I genuinely believe that there are still much I have yet to explore.
One thing's for sure, with so much to see and experience, trying to come up with a short list of things that you need to tick off during your holiday in Thailand can be challenging. So that's where this post comes in.
Here, I'll be sharing with you some awesome activities that are not to be missed that will help you narrow down your must-dos. Here we go!
Eat and cook up a storm
First thing's first – Food. I don't know about you, but for me, one of the main reasons to travel is to take advantage of all the delicious flavors that the world has to offer. It's a tasty way to get to know a culture. Plus, we all have to eat – right?
Sustenance aside, when I like the food of the destination I'm visiting or vacationing in, it makes the trip a whole lot more enjoyable. Lucky for me, Thai cuisine is one of my all-time favorites so each meal I had became a gastronomic adventure.
Thai people are passionate about their food and understandably so (it's so good!) so it's no surprise that practically no matter where you decide to dine in, whether you prefer Michelin starred restaurants or street food stalls, you are likely to adore what you ate.
Note that when it comes to hygiene and street food, you need not worry. Thailand's offer some of the cleanest delicacies you can find in South East Asia so feel free to try a serving of fresh papaya salad!
That said, for those of you who are not used to eating a lot of spices or food from street vendors in general, for the first couple of days I would suggest eating in a more well-established restaurant (as the wait staff is more likely to speak better English there). This way, it'll likely to be easier for you to make a special order of milder versions of their dishes (The Thais like their food spicy!).
By allowing this time of transition, it'll enable your taste buds and stomach to better settle into the local flavors and help to avoid getting unwanted stomach aches or other food-related illness that could spoil your entire trip.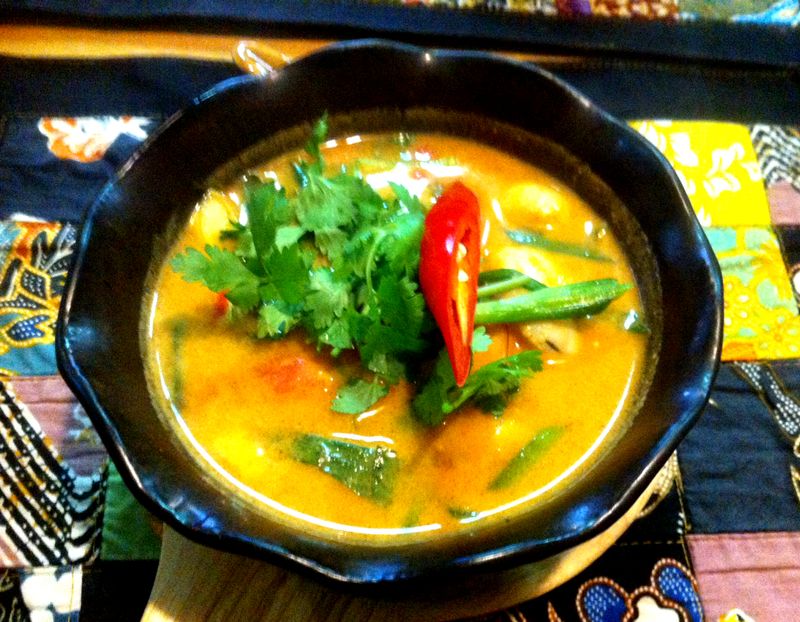 On my last trip to Bangkok, I took the opportunity to go on a cooking class and had a great time learning how to prepare authentic Thai dishes such as the popular Tom Yum Goong, Massaman chicken curry, and mango sticky rice.
As an added bonus, we ended meeting and getting to know other food lovers from around the globe which made it a day seriously well spent.
Try Muay Thai
Image credit: Gym Bangarang Muay Thai & Fitness
Looking for a fun yet unique way of burning all the calories you'll inevitably be consuming on your vacation? If you're someone who is at least curious about martial arts, you'll be interested to know that Thailand is home to one of the fast-growing combat sports/martial arts disciplines on Earth – Muay Thai.
Originating all the way back in 14th century in Siem, Thailand, it is also known as 'The Art of Eight Limbs' and it infuses strong ethics and traditions. Taking up Muay Thai enables us to not only build physical strength but also inner strength and character.
No wonder why many professional Mixed Martial Arts (MMA) fighters opt to add this simple yet effective discipline to their repertoire of fighting skills.
That said, if you're not looking to practice it for the long haul, it still makes a great way to learn some self-defense moves and/or stay fit during your holiday and beyond. As you will learn how you can effectively combine cardio and strength conditioning, you can even integrate them into your fitness routine long after your vacation has ended.
As Muay Thai is actually Thailand's national combat sport which means you can easily find a gym or training camp that offers Muay Thai classes in any city or town across Thailand.
Join a yoga class or retreat
Image credit: Banburee Resort & Spa
If hitting and kicking a heavy punching bag is not your cup of tea, why not opt to do yoga instead? Whether you opt to join a class in a studio in the city or go on a beach-side yoga retreat, it's a low-impact yet effective way to stay fit and tone your body while you're on vacation!
Though I wouldn't consider myself a yogi, I've been practicing yoga on and off for years and found that Thailand offers an ideal setting that encourages me to deepen my practice.
When in Thailand, I prefer to spend as much time soaking up the sun so I would recommend signing up for a class or a yoga retreat in Koh Samui or Koh Phangan. The beachside location enables me to relax and unwind at the beach after yoga sessions and this way, I always have the option to do yoga on the beach too!
Explore by kayaking
Image credit: ThailandTourism.co
As I shared prior, one of the best 'characteristics' of Thailand is its breathtaking sceneries. And when it comes to exploring its picturesque limestone mountains, hidden lagoons as well as its many beautiful islands, there's no better way than to get on a kayak! To continue your active holiday, kayaking is not only an enjoyable way to explore and to get around, but it also makes an amazing workout for your upper body (and a nice tan while you're at it).
If you ever wonder where in the world Leonardo Dicaprio's 'The Beach' captivating beach scenes were filmed, wonder no more. It was actually filmed in Khao Yai National Park - a definite must-visit!
Other hotspots for kayaking includes Khao Sak National park, Phang Nga Bay & James Bond Island as well as Angthing Marine park.
Hop on a Motorcycle
Prefer to explore Thailand on land? Not a problem. If you don't already know it, Thailand is a great destination for epic road trips. It also happens to be considered one of the world's best motorcycle touring destinations.
Some of the best routes in Thailand includes The Samoeng (Mae Sa Loop), The Nan Loop, The Chiang Rai Loop, and the Mae Hong Song Loop.
So if discovering the country's landscapes, temples, paddy fields, and villages on a motorbike sounds like a dream to you, take advantage and go on a motorcycle tour!
Go on a jungle trek
Image credit: Pagedesignweb.com
Want to experience something that is truly different than what you would normally do on vacation? If so, I recommend spending checking out Thailand's wildlife in their natural habitat on a trek.
Though a jungle trek may not be everyone's idea of an ideal activity, anyone who has done it would vouch that it's magical. Venturing into the dense rainforest and spotting the nation's unique flora (Rafflesia Arnoldi, etc.) and fauna which includes the Asian elephants, tapirs, and bears is undoubtedly an experience that you won't soon forget!
Should you decide to go on a jungle exploration, please pack accordingly and note that the best time to do so is during the dry season (Dec – April). It is not advisable to do so during the monsoon or rainy season (Jun-Oct) as not only the trails are harder to trek but it's also when leeches are prevalent.
Recommended treks: Khao Sok National Park, Chiang Mai (Ban Jabo Hill Trek), and Umphang.
Shop at Chatuchak Weekend Market
Image credit: TravelWireAsia
As most International flights fly into and from Bangkok, it's only fair that you spend a day or two in Thailand's capital city – even if it's just for its food and shopping!
If you're in the mood of rewarding yourself with something nice or need to pick up souvenirs to bring back home, instead of hitting the malls, I recommend that you spend a couple of hours scouring through its weekend markets – particularly the Chatuchak market (open only on weekends).
Chatuchak is the largest outdoor market in the world and with an average of 200k visitors per weekend, it can definitely get pretty overwhelming to wander around in. So, be sure to head there early in the morning to beat the crowd.
The great thing about Chatuchak is that there are plenty of food stalls there too so if you'd like to take a break from all the haggling, you can do so while noshing on local dishes and a refreshing glass of iced Thai tea.
Additionally, Chatuchak has a park that is surprisingly lush and quiet. Once you've got everything you needed from the market, it's definitely worth it to wind down by strolling its serene paths as you reminisce all of your exciting Thai adventures before heading back home.
---
Can't wait to experience your own adventure in Thailand? Be sure to check out all the exciting Thailand vacations we have on offer!