Top Detox Retreats to Reset and Recharge Your Body
The go-to resource for planning unforgettable travel experiences. Find all you need to know about the top destinations and enrich your life through travel.
Discover Holidays now
The stress of your daily life can affect more than just your mind – it can affect your entire body as well.
Looking for a vacation to clear your mind and unwind? Then why not get away from it all by going on a detox retreat! This is your time to clear your mind, restore your body, and rejuvenate. Relax by a pool, treat yourself with spa days, and pamper your body, mind, and soul while eating and drinking only healthy meals that will give you a good cleanse.
Across the world, you can find amazing resorts that include detox practices, specializing in healthy food options, fasting, fitness activities, ultimate spas and massages, as well as mental activities to make sure your days at the resort are worry-free and that you head back home in a healthier state.
To help you narrow down the options, in this article, we are sharing some outstanding detox retreats that allow you to reset and recharge your body. We bet you'll be daydreaming about your days here for weeks to come.
Feeling or experiencing low energy and tiredness? Maybe you are breaking out or have some mood swings? Then it's time to join this detox retreat in Florida, designed to support your inner healing ability through food, breath, and yoga.
A typical day starts at 7 a.m. with lemon water. You'll then enjoy a nourishing breakfast and join a meditation session, followed by a gentle Hatha flow. Various workshops are available throughout the day. After lunch, you'll join an energizing Vinyasa class. Or you may spend time by the pool or at the beach. After dinner, you'll have more time to relax.
The package also includes a 30-minute complimentary hydro-therapy experience at a beautiful spa, as well as a 50-minute complimentary healing and balancing massage.
During your stay, you'll get free bicycle rental to explore the surrounding area. There are a lot of beautiful tropical beaches just a mile from the retreat. You'll also find plenty of cafés and restaurants to check out.
Get off the beaten path and immerse yourself in an authentic Costa Rican experience.
This private retreat is developed according to your needs and that also includes the food. The menu is designed specifically for you, based on your detox and dietary requirements.
Your day starts at 7 a.m. with the morning yoga practice and is followed by breakfast and journaling. You'll then join a meditation session. After lunch, you'll have plenty of free time to connect with nature, explore the farm, hike in the rainforest, or just relax. Dinner is followed by meditation practice.
The program includes a guided hike and harvest in the permaculture farm, a cocoa farm tour and chocolate-making workshop, a 60-minute massage, and a full-body mud wrap with temazcal experience.
This detox retreat in Mexico offers a unique all-inclusive experience involving a juice fasting program developed by the organizer. Guests will enjoy fruit and vegetable juices, home-grown wheatgrass, noni juice, mineral broth, and detoxifying teas.
You'll also attend workshops to learn about the cleansing, nutritive, and rejuvenating properties of juices, as well as the benefits of a rebounder on the lymphatic and immune systems.
The package also includes a guided walk in the mountains, complimentary bottles of water, and the use of the library.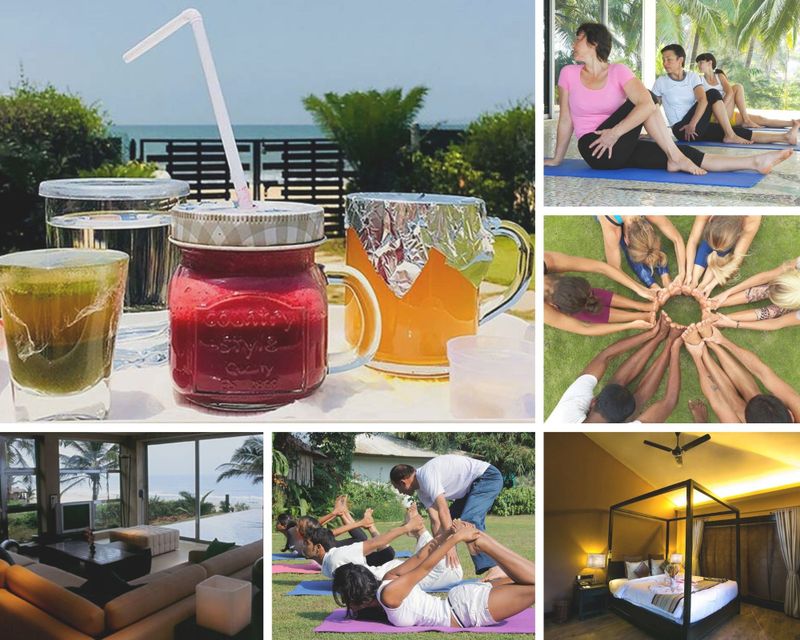 Are you new to detox practices? Or maybe you haven't yet tried fasting?
If you experience constant fatigue, cravings, low moods, and low energy, this juice fasting detox is designed for you!
The program includes medical assessment, Ayurveda consultation, personalized diet and nutrition coaching, chakras assessment, and a 1on1 session of NLP (Neuro-Linguistic Programming).
You'll join daily guided meditations and yoga classes, enjoy a daily holistic spa treatment, as well as attend educational workshops and talks.
During the retreat, the menu is based on broths, balanced juices, and superfoods. All foods are vegetarian but vegan, gluten-free, and lactose-free options are also available.
This detox retreat in Portugal is based on an original concept in the fields of cleansing and detoxification. More so, it was listed in The Times (in January 2016) as one of the top ten detox retreats in the world!
The program combines the cleansing effect of a liquid detox diet with the healing effects of yoga, meditation, fasting, and alternative therapies.
Your day starts at 7 a.m. with the wake-up call. You'll then enjoy lemon tea, join a yoga class, and nourish your body with juices and vegetable broth at set times throughout the day (10 a.m., 1 p.m., and 7 p.m.). In the evening, you'll join a meditation class, followed by free time and other activities.
Each day, you'll spend time outside the retreat, enjoying the local beaches.
---
Ready to reset and recharge your body? There are plenty of health & wellness retreats to choose from!