Your Travel Guide to France: What to See, Eat, and Do
The go-to resource for planning unforgettable travel experiences. Find all you need to know about the top destinations and enrich your life through travel.
Discover Holidays now
France is one of the most visited countries in the world, with a history, culture and food that are simply unparalleled. Add the incredibly varied geography and one lifetime would hardly be enough to explore all it has to offer.
France serves those helpless romantics with its fairytale châteaux, winding canals, seemingly endless lavender fields, and fabulous wines. Adventure travelers will be delighted to discover its lush meadows, dramatic coastlines, and natural parks by foot or bike, by climbing the French Alps or surfing in the Basque country.
Whatever you choose to see or do in France, it all starts and ends with a hearty meal. Food is at the core of French culture and, depending on the local ingredients, there are many regional variations. A typical meal in France consists of three courses – an entrée (appetizer), followed by a plat principal (main dish), wrapped up with a dessert or cheese plate. Of course, a glass of fine wine should complement each meal.
The laid-back French rhythm of life is contagious, and there's no better way to experience 'l'art de vivre Française' than through a tour of France at a leisurely pace. We're here to help you get started with our comprehensive France travel guide.
Getting around France
The public transport system in France is flawless. Paris has one of the oldest subway systems in the world – the Paris Métro – connecting all the main sites in the city. For the outer-ring of Paris, including the Charles de Gaulle Airport, Disneyland Paris, and the Versailles Palace take the RER train.
The best way to travel through France is by train, which is fast, comfortable, and environmentally friendly. France's national train company SNCF is renowned for its comfy trains and on-time performance; it is also cheap. The TGV (high-speed train) is more expensive, but it does link over 50 French cities and allows travelers to reach any corner of France within a few hours. Whichever rail company you choose, make sure you book your tickets ahead of time to save money.
Another convenient option is to travel by plane. Internal flights connect the main cities in France and are quite frequent throughout the day. Within the cities, buses and bikes are a preferred mode of transport.
What to see and do in France
Whether you're up for a quick taste of France or you wish to get to know the country more in-depth, these are the places you should start with:
1. Paris
Paris needs no introduction. For most tourists, it is the first stop in France. In 2017 alone, the myriad landmarks in The City of Lights attracted over 40 million tourists, hitting a new record.
What to eat:
The food culture of Paris is inextricably influenced by the cuisines of the different regions of France. Perhaps the most authentic French meal you can have in Paris is the cheese plate – the cheese stars of each region served alongside a sliced baguette. Other must-have dishes include French onion soup, foie gras, falafel, goat cheese salads, and croque-monsieur (grilled ham and cheese sandwich).
For dessert, try the croissants, crepes, galettes, éclairs, butter caramels, and macarons that you can get from the numerous street stands. And of course, a picnic next to the Eiffel Tower or on the banks of the River Seine is a must-do in Paris. Pack some baguettes, stinky cheese, pastries, wine, and enjoy!
What to see:
The former royal palace of the French kings, the Louvre Museum now hosts some of the world's most important art collections, counting over 30,000 artworks. Another definite must-see is the Musée d'Orsay, located in a former train station on the left bank of the Seine, home to the world's greatest collection of French Impressionist masterpieces.
Moving on to some of Paris' quintessential symbols, the Eiffel Tower is the most visited paid tourist attraction in the world. Built by Gustave Eiffel in 1889, it is made from 8,000 metallic parts and stands 324 meters (1,063 feet) tall, offering stunning panoramas of the city.
Take a walk down Champs-Elysées, by far the most famous street in the world, all the way to the Arch de Triomphe, the doorway between the old and new Paris and the largest monument of its kind on the planet.
Take an evening walk along the River Seine to Notre-Dame de Paris, a UNESCO-listed cathedral and a magnificent example of medieval Gothic architecture.
Dominated by the white-domed Sacré-Coeur Basilica, the Montmarte neighborhood is where the city's artists still meet up. Retrace the footsteps of Van Gogh, Renoir, Hemingway, Picasso, and Fitzgerald, and don't forget to stop by the Moulin Rouge to experience a traditional Parisian cabaret.
Have a taste of Old Paris at Marché aux Puces de St-Ouen, the city's most famous flea market and quite possibly the biggest in the world.
No tour of Paris would be complete without a visit to Versailles, which you can reach by RER train from Paris in about an hour or less. Originally a hunting lodge, it was transformed by "Sun King" Louis XIV into an opulent palace, symbolic of the French monarchy's glory up until the French Revolution.
2. Loire Valley
Revel in the beauty of the typical French countryside and woodlands through a tour of the Loire Valley. Referred to as the "Garden of France", it is the largest UNESCO-listed site in the country, dotted with medieval hilltop fortresses and extravagant Renaissance castles.
What to eat:
Freshwater fish cooked in buttery sauces, Fouace (traditional sweet bread), rillettes (textured, shredded pate), and a cheese plateau to taste the many varieties of goat's cheese that are specific to the area.
What to see:
It can be quite a challenge to pick which castles to visit out of the over 100 that are open to the public. To make it easier for you, here are some you simply must-see on your first trip in the Loire Valley: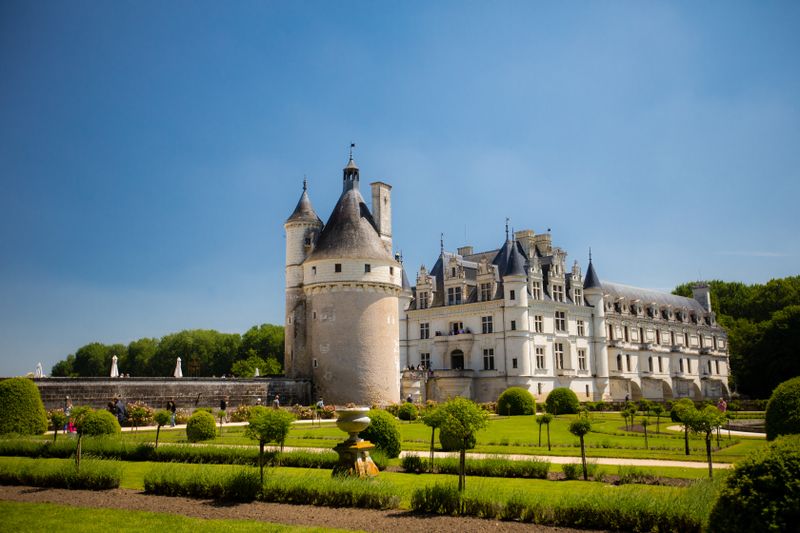 Château de Chenonceau is the most recognizable castle in the region. Originally built in the 11th century over the River Cher and rebuilt in a Renaissance style in the 16th century, it is also called Château des Dames in honor of the famous queens and royal mistresses who called it their home across the centuries. It is the most visited castle in France after the Versailles.
Château de Chambord, often regarded as the most impressive of all the châteaux on the Loire Valley, has 440 rooms, 282 ornate fireplaces, 84 staircases, 11 kinds of towers, and three kinds of chimneys. It is massive and its lack of symmetry has become symbolic.
Château Amboise is a wonderful example of Renaissance architectural refinement. Only a few minutes away, you will find the smaller but equally fascinating Château du Clos Lucé, which was Leonardo da Vinci's home for the last three years of his life.
Château d'Ussé truly is the stuff of fairytales. It is said that, upon visiting Château d'Ussé, Charles Perrault was inspired to write Sleeping Beauty. Château Chinon is where Joan of Arc claimed to have heard heavenly voices and met French King Charles VII in 1429. Cheverny is a Renaissance manor house in an idyllic setting that astounds through its perfect symmetry, while Villandry is famous for its beautiful formal gardens.
3. Normandy & Brittany
Medieval towns and ports, quaint fishing villages, dramatic coastlines, and lush green pastures make up this unspoiled corner of Europe. Normandy and Brittany are a wonderful destination to combine cultural heritage with gastronomic indulgence.
What to eat:
This pastoral region is known as the 'Cider and Cream Country', and that should require no further explanation. This is perhaps the best place in France to enjoy traditional farm-to-table meals. Camembert originated in Normandy, while Brittany is famous for its fresh seafood, especially mussels and fish soup, as well as its buckwheat crêpes.
What to see:
The number one attraction in Normandy is Mont St Michel, a small tidal island just off the coast, connected to the mainland by a causeway. The Norman Benedictine abbey was built in the 11th century and is a marvel of medieval architecture, with its Gothic spires rising 508 feet (155 meters) above the sea.
History buffs come to Normandy to visit the beaches where the World War II Allied Forces landed in 1944. Côte de Nacre is the site of the D-Day landing beaches, and the city of Bayeux is a great base for you historic travels in the region. While here, visit the Bayeux War Cemetery, the largest WWII British cemetery in France, the Bayeux Cathedral, and the Bayeux Tapestry, a unique artifact depicting the conquest of England by William the Conqueror.
Rouen, the capital of Normandy, is one of the best-preserved medieval cities in France, with a strikingly beautiful Old Town dotted with Gothic churches and half-timbered houses.
Art enthusiasts should visit Giverny and the gardens of Claude Monet, one of the pioneers of Impressionist painting, and see the water lilies that he so loved to paint. In the same note, Honfleur is a town that was favored by Impressionist painters, home to one of the most picturesque ports in France. The historic walled city of Saint-Malo is a Channel port in Brittany with a history that goes all the way back to the 1st century AD.
Nature lovers should visit the iconic white-chalk cliffs and natural arches at Étretat and maybe even try a new water sport while here, as there are quite a few renowned French surf spots in the area.
4. Provence - Occitanie
With its olive groves, lavender fields, vineyards, rolling hills, Roman landmarks, and old medieval villages nestled in the valleys, Provence is perhaps the best place to experience l'art de vivre Française. It is without any doubt the most colorful corner of France, immortalized by Van Gogh, Cézanne, Matisse, and Picasso.
What to eat:
Provençal cuisine is influenced by the region's Mediterranean climate, and is based on olive oil, herbs, and vegetables. It is simple yet high-spirited, abounding in fragrant herbs like rosemary, thyme, and sage, which often fill the air. While here, make sure you try the Tapenade (olive dip made from olives, anchovies, capers, garlic, and olive oil), Ratatouille (vegetable casserole), and Petit Farcis (Provençal stuffed vegetables).
What to see:
The former capital of the region, Aix-en-Provence is quite possibly the most colorful market town in the world, the birthplace and home of Paul Cézanne. Visit his workshop and see his work at Musée Granet.
Arles was home to Vincent van Gogh for a year, during which time the artist was highly productive but also cut off his ear in a psychotic episode. While here, visit the Roman forum, theatre, and amphitheater.
Avignon, once the Seat of the Papacy, remains a famed pilgrimage site to this day. The 14th century Papal Palace, one of Europe's largest medieval buildings, its many churches and covenants, as well as Pont d'Avignon, a famous medieval bridge over the River Rhône, attract travelers from far and wide. Near Avignon, Theatre Antique d'Orange is a Romanesque theater, one of the best-preserved and most complete in the world.
With its three tiers of arches and standing 164 feet (50 meters) tall, Pont du Gard is an incredible feat of Roman engineering. It was built in the 1st century AD as part of a massive aqueduct supplying the city of Nîmes, which used to extend for 31 miles (50 km). The nearby Arenes des Nîmes is probably the best-preserved Roman amphitheater in the world.
If you're feeling outdoorsy, then head on over to the Gorges du Verdon, one of Europe's most impressive river canyons, stretching for 15 miles (25 km). Go kayaking on the emerald Verdon River, rock climbing on the imposing limestone cliffs, or simply admire the awe-inspiring landscape from the many viewpoints. Visit the Camargue National Park to explore the wild wetlands and see the black bulls, white horses, and pink flamingoes of the Rhône Delta.
5. The French Riviera
Artists and celebrities have always been drawn to this part of France, with its stunning Mediterranean views and sun-kissed coastline. Although considered a playground for the rich, the Côte d'Azur is accessible to everyone, offering both high-end and budget resorts.
What to eat:
The cuisine is quintessentially Mediterranean; olive oil, herbs, goat cheeses, and fresh vegetables are at the base of every dish. While here, try the Bouillabaisse (traditional Provençal fish stew), Raviolis à la Daube (ravioli stuffed with beef), Pissaladière (onion and anchovy tart), Socca (chickpea pancake), Aïoli Provençal (not just the garlic sauce but a whole meal consisting of fish and boiled vegetables dipped in the sauce). For dessert, have the Tarte Tropéziene, St Tropez' signature cake.
What to see:
Every little seaside town of the Côte d'Azur is worth a visit, but if it's your first time here, aim to see these first:
Nice, the capital of the French Riviera, is renowned for its panoramic beach views. Stroll along the city's famous Promenade des Anglais, see the Old Town and the flower market on Cours Saleya. And remember, nighttime is when Nice truly comes alive.
Cannes is a definite must-visit. If you're not in town during the film festival (which we highly recommend), there's still plenty to see. The beaches are shockingly beautiful and on any given day, you will get to watch expensive cars cruising down the coastal Boulevard de la Croisette.
We cannot talk about Côte d'Azur without mentioning glitzy St Tropez, an old Mediterranean seaport harbor filled with luxury yachts, famous for its dining, shopping, and nightlife.
Cap d'Antibes, with its sandy beaches and Old Town overlooking the many ports, is the crown jewel of the French Riviera. Antibes is where Jules Verne wrote the scenario for Around the World in 80 Days and where F. Scott Fitzgerald wrote The Great Gatsby. Château Grimaldi, once the home of Pablo Picasso, is now the Picasso Museum.
France's second-largest city, Marseille impresses through its Roman ruins, medieval architecture, and bustling harbor. Villefranche-sur-Mer is a charming town set on a hillside next to the deepest natural harbor in the Mediterranean.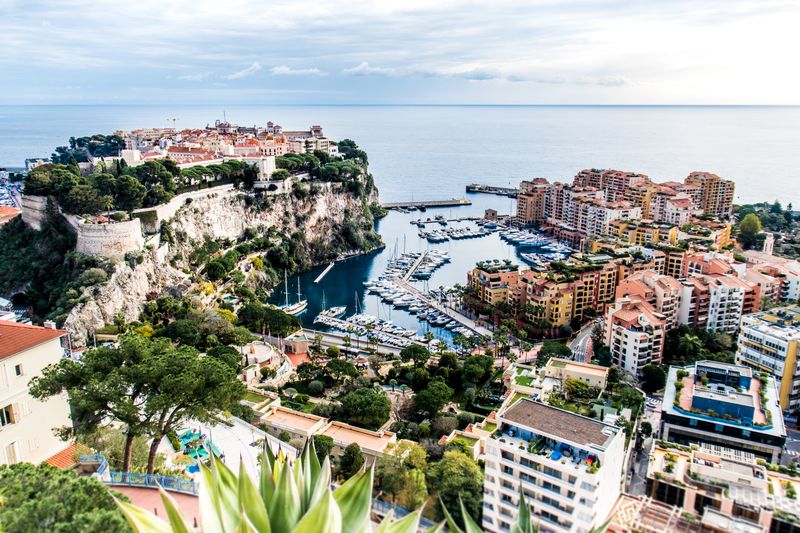 You cannot leave the French Riviera without stepping foot into Monaco, the tiny state made famous by its gambling facilities, Michelin-starred restaurants, and Grace Kelly.
Must-have experiences in France
A food tour
A food tour of France is the best way to discover new dishes and connect with the country's culture. You can either choose to just taste the many local delicacies or you can take a cooking class to learn how to make French pastries and authentic recipes that you can continue to make at home. Most culinary vacations in France include visits to local farmer's markets and wine tasting tours.
A yoga retreat
Since we are talking about a different rhythm of life, what better way to slow things down while also visiting the country's most stunning landmarks than a yoga retreat in France? You can choose from numerous yoga styles for all levels, which you can combine with a multitude of extra activities, from painting and cooking workshops to hiking, cycling, surfing, and more.
Go on a surf camp
France is one of Europe's best surfing destinations. Explore France's dramatic coastline and pristine beaches by joining a refreshing surf camp. You can choose between wave surfing, kitesurfing, windsurfing, and stand-up paddling, or you can combine all in one. Stay active and take in the scenery while riding the restless waves of the Atlantic!
Final words
Mentioned in this guide are just some of the highlights. There's much more to be discovered in France, from the French Alps and the Basque Coast to the Alsace region, Bordeaux, Burgundy, and many more. Take it one step at a time and don't forget to breathe in 'l'art de vivre Française'.
---
Discover France at your own pace and let the good vibes sink in. Make sure you add some exciting activities to your bucket list and travel like a local on an authentic holiday in France.