A Useful Guide to Help You Explore the Very Best of the USA
The go-to resource for planning unforgettable travel experiences. Find all you need to know about the top destinations and enrich your life through travel.
Discover Holidays now
The United States of America, land of the free and home of some of the most spectacular cities you'll ever see. When the first pilgrims arrived in America, little did they know that they were founding what was soon to be one of the most visited countries of our modern world.
With over 75 million visitors per year, the USA is by far one of the top touristic places on Earth.
From the tranquil beaches in California to the vibrant cities in New York; from the thematic parks in Orlando to the technological scene in Seattle. The vast American territory has something to offer for all tastes and preferences.
New York
Who hasn't dreamed of climbing up the Empire State, imagining that King Kong will soon join you swatting airplanes? Or entering the New York Public Library scared of an imminent ghost encounter? Or walking in Central Park looking for a lady covered by pigeons?
Blame it on Hollywood if you may, but New York is a magical city which is on the bucket list of almost every single traveler. There are so many things to do that no guide could ever encompass all that makes the Big Apple so special, but here are a few musts that will make you feel as if you were your favorite movie character!
What to see
Drop a pin wherever you want on Manhattan's map and, without a doubt, there will be something interesting to see. There's either a stunning skyscraper around you, or a landmark monument, the house of one famous artist, a museum, a huge store, an iconic park, or a musician playing jazz.
If you're a fan of New York's impressive skyline, take the subway to Long Island City and enjoy the best view of Manhattan's skyline from Gantry Plaza at no cost. Central Park is arguably the absolute must anyone in New York needs to see. Add the High Line, Washington Square Park and Times Square and you've got yourself a great itinerary.
Crossing the Brooklyn Bridge is another must, and while you're here, make sure you take a stroll through the Heights and Dumbo districts. Not too far from there, the Financial District has a unique vibrant atmosphere that you need to experience yourself; there you can enter Trinity Church and see the 9/11 Memorial.
Lastly, don't forget about Harlem. This historic district, north of Manhattan, had a big contribution to the civil rights movement and was home to many artists who shaped the culture of the country. Simply walking on these streets will make you feel as if you're living history.
What to do
The season will dictate a lot of what you can do in New York. If you go during the summer, you'll get to choose among thousands of events all over the city. Free movie nights, concerts, plays, kayaking in the Hudson River, parades, festivals, etc.

Governors Island is another great summer option. The old fort has been transformed into a beautiful park where you can cycle around the island, have a picnic, visit the museum and take a closer look at the Statue of Liberty.
During autumn and winter, you won't get enough of all the hypnotizing lights. Also, you can go ice-skating at the Rockefeller Plaza and see the iconic Christmas tree; if you make it for Thanksgiving, you'll get to witness the famous Macy's parade or if you're looking for a spookier experience, you can't miss the Village Halloween Parade.
All year round, you can't go back home without one night out in the East Village. There are plenty of bars and clubs that will show you why this is the city that never sleeps. Watching a musical in Broadway is always a guarantee and if you're committed to exploring the five boroughs, take the Ferry to Staten Island and go watch a Yankees game in the Bronx to complete a truly New York experience.
What to eat
There are three things you absolutely need to eat in New York: pizza, a bagel and a platter from a food truck. Add a slice of cheesecake, a pretzel, a pastrami sandwich, one hotdog and you'll start morphing into a New Yorker in no time.
California
The dreamed destination for hippies, surfers, hipsters, tech-geeks, and vegan-lovers. And really, a place everyone wants to visit at least once in a lifetime. The bad news is that a lifetime might not be enough to completely explore the Golden State. That said, here are a few things you should absolutely do to get in the Californian mood during your trip here!
What to see
The Golden Gate, the most photographed bridge in the world, is certainly a must during your visit to California. Yes, it's just a bridge, but there's nothing more emblematic than this mile-long impressive piece of architecture. Almost as symbolic, the street cable car is a quaint memory of San Francisco's evolution. While in Northern California, Union Square is worth your time, too.
Southern California is also packed full of things to see, from the Hollywood sign and the huge mansions in Beverly Hills to the picturesque Santa Monica Pier and all the relaxing beaches on the Pacific coast. The Walk of Fame will transport you to the glamorous side of California, while Venice Beach and its canals will make you feel as if you're walking in some hidden European town.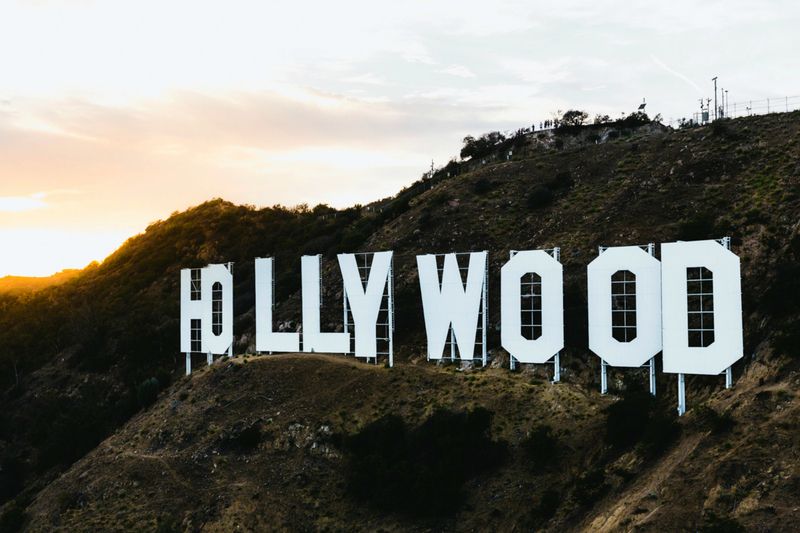 What to do
No matter if you're into wine or not, taking a tour in the vineyards of Napa Valley is an absolute must. The landscape is astounding and you'll learn a thing or two about wine in the process. If you're into hiking, Yosemite National Park is a heavenly place covered by giant sequoias, awe-inspiring waterfalls and jaw-dropping cliffs.
Lake Tahoe is an excellent place to do water sports during summer or skiing in winter. Almost all beaches in California are good for surfing, too, and home to some of the best surf camps in the USA. And if you're coming with your kids, make no mistake and bring the whole family to the San Diego Zoo. Lastly, if your budget allows you to, a classic visit to Disneyland should be part of your list; we've all wanted to see Mickey Mouse at one point in our lives.
What to eat
There are several different things to try depending on where in California are you. In NorCal, you won't get enough organic foods, avocado toast and kale salad, but most importantly, you have to drink at least a glass of wine
As you might imagine, the Mexican influence in SoCal is big and some even claim you can only find better tacos in Mexico. Whether you believe it or not, grab a burrito and taste the perfect representation of American and Mexican food combined.
Wherever you are in California, you should be able to try the sourdough bread. And no trip to California is complete until you have a sandwich at In-N-Out burger.
Florida
The Sunshine State, home to some of the best beaches in the United States. This flat peninsula is a seaside paradise which attracts millions of tourists every year, making it the second most visited American state. It's also a refuge to many Puerto Rican and Cuban immigrants, which makes it a multicultural hub with an eccentric mix of Hispanic and American traditions.
What to see
There's much more in Florida than amusement parks, lime keys and oranges. There's no way you can be stressed out in Miami's South Beach; the feeling of the breeze on your face, with the palm trees behind you, swaying to the rhythm of the chilled atmosphere is the perfect antidote to the hustle and bustle of the city.
Everglades National Park is a 1.5-million-acre preserve. It's the third biggest park in the USA and visiting this natural wonder should definitely be on your list. Another unique attraction is the Kennedy Space Center at Cape Canaveral. It has been NASA's primary launch center for nearly 25 years and has been the epicenter of many expeditions that have changed the course of spaceflight history.
Another natural area worth visiting is the Dry Tortugas National Park. Nestled in the waters of the Gulf of Mexico, it comprises 7 islands, one of which is Garden Key, home to Fort Jefferson, a former military fortification that is now an impressive touristic attraction.
What to do
If you're you're traveling to Florida, you could exclusively dedicate your trip to visiting the dozens of theme parks around the Orlando area.
The most popular one is Walt Disney World, but not everyone knows that it encompasses four different theme parks, plus two water parks: Magic Kingdom, Epcot, Disney's Hollywood Studios, Animal Kingdom, Blizzard Beach and Typhoon Lagoon. If you don't have a lot of time and must choose just one option, the Magic Kingdom is the one.
Universal Studios is the second park you can't miss, and some may argue it's even better than all Disney's options. If you're a Harry Potter fan, this is like a dream coming true. There's a ride where they give you a tour of Gringotts, you can get on the Hogwarts Express, buy your own wand at Ollivanders and even use your best spells in certain spots around the park.
What to eat
Florida is famous for its delicious juicy oranges. So, when life gives you oranges, make orange juice (or mimosas). To eat, try the stone crab claws, a slice of key lime pie and a Cuban sandwich for lunch.
Chicago
A travel guide to the USA could not be complete without mentioning the Windy City. Chicago has this unique mixture of Midwestern charm combined with a world-class development and the Italian roots of its immigrants that make it a very interesting destination to visit in North America.
What to see
Chicago has, arguably, the most famous skyscraper view on Earth. Formerly known as Sears Tower, Willis Tower was the tallest building in the world for over two decades. It is now the second tallest skyscraper in the USA and offers an electrifying view of Chicago from its Skydeck.
1,451 ft. below, the Art Institute of Chicago is one of the oldest and biggest museums in the USA. It's located in Grant Park and is a mandatory stop for all travelers. Millennium Park is another popular place to visit, it's where the famous Cloud Gate, aka "the bean", lies as a symbol of modern Chicago.
Garfield Park is a huge conservatory and is one of the largest greenhouses in North America. If you like plants and exotic vegetation, it should absolutely be part of your trip.
What to do

Lincoln Park Zoo is one of the oldest in the US (150 years old). The best part is that its 35-acres are home to hundreds of different species, and are completely open and free to the public. A ball game at Wrigley Field to watch the Cubs and walking around Navy Pier to grab a bite or have some ice cream are both good ideas.
The Second City theatre is a piece of history in the show business. It is considered the first ever ongoing improvisational theatre and it was the birthplace of the careers of many actors like Bill Murray, Stephen Colbert and Steve Carell. So, if you're in Chicago, it would be an excellent idea to watch a comedy show here.
What to eat
The one-and-only original deep-dish pizza was created here with lots of tomato sauce and an excessive amount of cheese. So, unless you're lactose intolerant, there's no excuse to not eat the famous Chicago-style pizza. In addition, try the Chicago-style hot dogs and if you're brave enough, drink the polemic Malört, its taste is not popular but it's a staple liqueur in Chicago.
New England
One of the most historical areas in the American Territory, New England is one of the biggest contributors to the creation and development of the United States. This area comprises six states in the North East: Massachusetts, Rhode Island, Connecticut, Maine, New Hampshire and Vermont. Famous for its top-notch universities, white winters and a unique sophisticated culture that makes its people very proud.
What to see
Coming to New England and not walking around the campus of at least one university would be a shame. Harvard is the most famous one and for good reasons, but there are dozens of other great colleges with impressive buildings that you could also visit. The MIT, Yale, Boston College and Brown University are just a few that will make you want to go back to school.
Boston is the most populated and famous city in New England. Just walking its streets will transport you to a precolonial time where most of the notable figures who fought for independence used to live. The Boston Common and Public Garden are two of the oldest public spaces in the USA and are icons of the city.
On the Atlantic coast, Cape Cod is an excellent place to relax as made famous by JFK and the gingerbread houses in Martha's Vineyard are taken straight out of a fairy tale. Up north, Vermont is an incredibly beautiful state where you can see thousands of maple trees which give you the best fall colors in the USA, and Maine's scenery is something every nature's lover should see at least once.
What to do
Being such an influential city during the Revolutionary War, Boston has a myriad of museums you can visit to learn about American history. However, there's one that stands out: the Boston Tea Party Ship. It's an interactive museum where you can relive the day when the rebels threw overboard all the tea in a sign of protest, thus, starting the movement for independence.
If you're a baseball fan (and even if you're not), Fenway Park is a mandatory stop. Watching the Red Sox at home is an experience that can't be compared to any other sporting event in the world. Or, if you're looking for something better suited for the family, the New England Aquarium is one of the prime attractions in Boston and home to thousands of aquatic animals.
Faneuil Hall Marketplace is an old-fashioned square where you can do shopping and eat all the typical food from New England. If you like beer, the Samuel Adams tour will make you fall in love with Boston. You'll learn about the process of brewing and you'll even get the chance to try a couple of their signature beers. If you prefer a sweeter experience, the Ben & Jerry's Factory offers daily tours where you'll see how America's favorite ice cream is made.
What to eat
The perfect New England meal would consist of an appetizer of baked beans and sweet potatoes, followed by the classic clam chowder, a lobster roll as the main course, and a cup of Ben & Jerry's ice cream as dessert. Wash it down with a Sam Adams Boston Lager and you'll be eating like a local.
Want to learn how to cook all the American delicacies? Try a culinary vacation in the USA.
Getting around the USA
There are, of course, a myriad more places one could visit in the USA. Las Vegas, Philadelphia, DC, Seattle, Colorado, New Orleans, Tennessee, are just a few examples of beautiful destinations. The good thing is that you can explore all the country fairly easily.
Flying within the US is relatively cheap and there's an airport almost everywhere; the highways are in perfect condition if you want to drive, just be careful as the speed limit doesn't let you go too fast. The most affordable option is the bus and there are several companies that will take you anywhere for as little as one dollar. Although the train system is not as good as in Europe, it can take you to several places around the main cities; or you can even opt for a more adventurous means of transportation and do a motorcycle tour.
Within the cities, the public transportation is always a good option. The subway will always be the faster and a more convenient way to see all the attractions and do as much as possible during your visit in the United States.
Round Up Your Trip with a Themed Holidays
To make your visit a truly memorable experience, spice it up with a few activities that will allow you to try different things and add value to your vacations. Whether it is a surf camp in California, a yoga retreat in Florida or a culinary vacation in New Orleans, themed travel will help you meet new people, learn new things and come back home being a better person.
Take a few days of relaxation and nourish your body and soul at the Sewall House in Maine. You'll be able to customize your trip to accommodate your needs, your level of practice and what you want to get from your retreat. Eat delicious vegetarian meals, go hiking in the breathtaking mountains of New England and deepen your yoga practice with daily sessions.
Is there a better place on Earth to go surfing than California? The hippy-like atmosphere and the great waves breaking on the Pacific shore are a paradise for any surfer. The Nomads Hotel offers a package with 5 days of surf and daily sessions for all levels. A surf camp is simply the perfect idea to rejoice in the relaxing setting that only the beaches in California can give you.
How about exploring the Southwest on two wheels? A motorcycle tour is a perfect opportunity to get to know the USA in all its glory. You can hit the road for three weeks and admire the national parks, do some sightseeing in the big cities and immerse in the classic American culture with fellow bikers.
---
Looking for a complete country tour in the USA? Check out all the holidays in the USA that Tripaneer has for you!