The Traveler's Guide to Regional Authentic Mexican Food (By a Mexican)
The go-to resource for planning unforgettable travel experiences. Find all you need to know about the top destinations and enrich your life through travel.
Discover Holidays now
Ah, Mexico; my beloved country full of colors, folklore and natural wonders.
A surreal place with as many blessings as problems. A diverse nation with different traditions that make us unique, but which can sometimes lead to conflict, too. However, if there's one thing that unites us all (aside from our devotion to Our Lady of Guadalupe) is that we take huge pride in our Mexican cuisine.
And no, I haven't met a single fellow Mexican who likes Taco Bell. That's not real Mexican food. Period. End of the discussion. If you come for a Mexican culinary vacation you'll understand why.
That said, if there's one stereotype that's mostly accurate, is that we do eat a lot of tacos (real tacos, of course). And I do mean A LOT. You can find tacos almost everywhere, on every corner, in every home, at every meal, at any time of the day. Even vegetarians have options nowadays, and while the traditional taco goes with meat, I'm glad people who opt for this diet aren't left out of this deliciousness.
The authentic taco al pastor.
Tacos might be the one dish that's fairly similar anywhere in Mexico, with some variations, but the same concept: corn tortilla, something on it (generally meat), and salsa. However, the rest of our cuisine is so diverse that it'd be impossible to include all the typical food in a reasonably long post. So, I've decided to include what I consider to be only the most representative dishes and regions of our rich Mexican gastronomy.
First, let's start with the food you can eat almost anywhere in our vast territory. No matter if you came to party in Cancun, do some surfing in Oaxaca or visit the Templo Mayor in Mexico City, you'll most certainly find a place to try these:
Anywhere in Mexico
Tacos
We've already covered tacos, but just to be certain you actually get the full experience, make sure to eat tacos al pastor (marinated shawarma-like pork), with cilantro, diced onions, salsa, lime juice and a slice of pineapple. If you feel adventurous, try some of the more exotic kinds such as lengua (tongue), sesos (brains) or tripa (intestines).
Quesadillas
Quesadillas are, in a few words, corn or flour tortillas with cheese (unless you're in Mexico City, where they don't always come with cheese). You can add meat, beans, stew, mushrooms or really anything that comes to your mind. This is a very common thing to eat for all Mexicans, either at home or at a food stand.
Tortas
Torta with ham and pork.
Again, to simplify a torta, it is any sandwich that uses bolillo bread rolls. As made famous by 'El Chavo del 8', the torta de jamon (ham sandwich) might be the most traditional one, but there are many variations of this Mexican sandwich. You'll normally find them with any kind of meat, lettuce, tomato, avocado, mayo and refried beans.
Chilaquiles
There's no more Mexican breakfast than chilaquiles. I've yet to find someone who doesn't adore this delicious dish. It consists of fried tortilla chips simmered in either green or red spicy sauce. Sometimes they can be topped with chicken, refried beans, sour cream, grated cheese and/or a fried egg.
Red chilaquiles with chicken.
Enchiladas
A very versatile dish, enchiladas can come in many different variations depending on the region you eat them. In short, they're corn tortillas (you've probably noticed how basic this ingredient is) rolled around a filling of meat, chicken or potatoes, covered with green sauce, red sauce or mole.
Esquites
This cup with corn is called esquite.
A ubiquitous snack on all streets in Mexico, esquites are little corn-cups topped with mayonnaise, crumbled cheese, chili powder, lime juice and butter. I know this combination sounds weird and not tasty at all, but trust me, it's just fabulous.
Aguas frescas
You'll find all sorts of flavored water.
We like to add different flavors to the water we drink. They're called aguas frescas and the most common ones might be jamaica (hibiscus), horchata (rice), and tamarindo (tamarind). Just be careful with some stalls on the street, make sure they're using purified water. Even though some people claim tap water is safe, I'd recommend sticking to bottled water.
Regional Mexican Food
OK, now that we've covered the general Mexican gastronomy, let's explore each specific region and their typical dishes. From South to North, here are 7 places you need to visit to try their local delicacies:
Yucatan
Many Mexicans' favorite, Yucatecan cuisine has plenty of mouth-watering dishes that you absolutely must try when visiting southeastern Mexico.
Cochinita pibil is the most representative of them all; slow-roasted pork marinated in a special mixture of spices and achiote. And if you were wondering, yes, cochinita is normally eaten in tacos. As with most Yucatan specialties, you can also add pickled red onions and habanero peppers; the signature of the region.
Panuchos are another must and one of my favorites. They're fried tortillas, filled with beans and topped with meat (could be cochinita, too), tomatoes, avocado and pickled red onions. Salbutes are a less crispy version of panuchos, just without refried beans inside the tortilla.
Delicious panuchos with cochinita pibil.
Sopa de lima is the emblematic soup of the Yucatan peninsula. It consists of chicken broth with lime, onion, bell pepper, cilantro and a few tortilla stripes. Lastly, Papadzules are sort of local enchiladas; the main difference being that they're dipped in pepita sauce, a little bit of habanero and filled with hard-boiled eggs.
Oaxaca
Located in the southernmost of Mexico, Oaxaca is one of the most enigmatic states in the country. It has a cuisine that can scare some people off —why you ask? Well, grasshoppers are not for everyone.
Although, when you give them a try, chapulines are pretty good. They're usually seasoned with chili powder and lime juice, and honestly, if you close your eyes and eat them, you'd never guess they're insects, just a spicy weird snack.
This is how you'll see chapulines on the street.
Tlayudas are a more conventional dish consisting of a large, crunchy, toasted tortilla topped with refried beans, pork or beef, cabbage, avocado, quesillo (aka Oaxaca cheese) and salsa.
Oaxaca is also famous for its 7 different ways to prepare mole. It is a sauce prepared all over the country in many different ways, but Oaxaca is arguably the very best place to eat it. Most moles have over 20-30 ingredients and have many flavors ranging from bittersweet to spicy. If you can try all Oaxacan 7 moles, go for it; but if you have to choose just one, I recommend mole negro, which has delicious Mexican chocolate.
Last but not least, Oaxaca is where the famous Mezcal was born. Don't leave the state without drinking at least one shot of this distilled beverage made from agave.
Puebla
Along with Oaxaca, Puebla is home to the best mole in the world. Mole poblano might be the most famous one, not only in Mexico but in the whole world. The creamy sauce is made with chili, chocolate and many other ingredients, and is regularly eaten with chicken and rice.
Another specialty of the region, Chiles en Nogada are a cornerstone of Mexican cuisine. It consists of a chile poblano, filled with ground meat, topped with a creamy walnut-based sauce and pomegranate seeds. Just know that due to its complex elaboration and the rare ingredients required to make the sauce, you can only find them in August and September.
Chiles en nogada, a real Mexican tradition from Puebla.
Cemitas are very similar to tortas but with a different kind of bread, not the traditional bolillo. They normally come with meat, cheese, onions, peppers and an herb called papalo.
And before leaving Puebla, one very famous candy you absolutely must try is camote. The word itself means sweet potato, but in this case, you might call it sweetened sweet potato. It's a crystalized candy with sugar and lime or orange essence and you can find it in any candy shop.
Mexico City
It's almost mandatory to visit the capital for a full culinary experience. And while some of the dishes listed under "anywhere in Mexico" might be attributed to Mexico City, there are some things that are very characteristic of this huge metropolis.
One very popular street food you're going to find is the torta de tamal. A variation of the Mexican sandwich with a tamal inside instead of ham or any other meat. Tamal is a dish itself consisting of corn-dough stuffed with chicken, green sauce, pork or many other things depending on the region. Some people don't like it since it's a lot of dough, but I'd absolutely recommend to try it at least once; at least no one can tell you if it's worth it or not.
Tlacoyos are thick, flattened oval-shaped paddies, stuffed with beans, potatoes or cheese and sometimes topped with grilled cactus, requeson or mushrooms, plus salsa. They're a very ancient dish and it's said that people used to eat them well before the Spaniards arrived. Huaraches are somewhat similar to tlacoyos, just with more toppings, such as meat, avocado, onions and cilantro.
Tlacoyo, meet my readers.
And once you're here trying the local delicacies, join a cultural tour in Mexico City to learn more about the pre-colonial culture and all its influence in our everyday lives.
Jalisco
Arguably, the most representative state of Mexico from the 32. I mean, nothing says "Mexico" more than tequila, and you cannot make tequila outside Jalisco. You can drink it anywhere in the world, but the designation of origin (PDO) belongs exclusively to this region in Mexico. And you can actually have a full tequila experience by touring the blue agave fields, learning about the elaboration of our national liquor and, of course, drinking lots of it.
Blue agave about to be turned into tequila. Thank you, good sir!
A traditional dish to celebrate our Independence Day in mid-September is pozole. You can find it anywhere in Mexico, but the most famous is from Jalisco. It's a stew made out of white corn and pork, garnished with onion, radish, avocado, cilantro, shredded cabbage, oregano and lime juice.
Jalisco is also well-regarded for its birria, a spicy stew made from goat or lamb; carne en su jugo or meat in its juice, a broth of beef finely chopped, served with beans and plenty of toppings; and if you're in Guadalajara, you MUST eat at least one torta ahogada, a personal favorite which is a pork sandwich drowned in hot sauce.
My beloved torta ahogada. Just be careful, it could be very spicy.
Sonora
Going further north, in Sonora, you'll find the home of the original chimichanga (as made famous by Deadpool). It's a deep-fried flour tortilla, with beef or chicken, sauce on top and lots of cheese. Admittedly, something Tex-Mex cuisine has replicated somewhat OK.
Maybe the most traditional dish from Sonora, machaca is a delicious dried meat (beef or pork), which is rehydrated and pounded to make it tender. Afterward, it's accompanied by several different things, but the most common one might be with scrambled eggs.
Machaca with eggs, a tasty breakfast.
Being on the Pacific coast, all seafood is worth trying here, and one specialty that I recommend is camarones a la diabla, a very spicy way of preparing shrimps covered with red pepper sauce. You really have to like hot food to try these, but if you don't have the stomach, it's better to opt for a good ceviche.
Guanajuato (My Personal Extra Piece of Advice)
Not one of the most traditional states in terms of Mexican gastronomy, but this is the place where I was born and I can give you some quick tips if you happen to come to Leon, my hometown.
The three foods that I consider musts from my city are:
Guacamayas, pork rind tortas with lots of pico de gallo sauce;
Caldo de oso, a cup mixed with jicama, cucumber, pineapple, vinegar, onions, lime juice, chili powder and shredded cheese;
Cebadina, a cebada-based drink with hibiscus blossom, tamarind and a little bit of baking soda.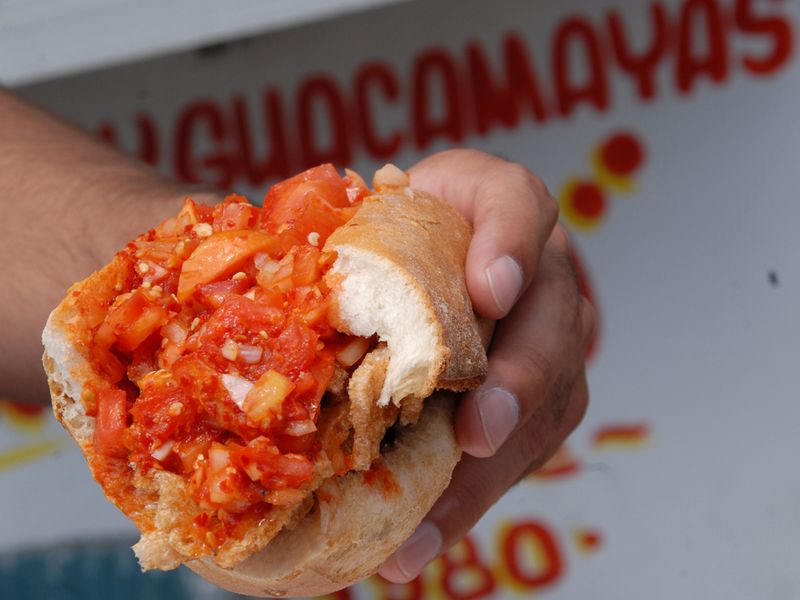 We're very proud of guacamayas in Leon. Never reject an invitation.
Last words
I might get in trouble with my fellow Mexicans for leaving out so many wonderful states. All regions have their own traditional food and it's all delightful. Nonetheless, I wanted to focus on the places where I've actually been and tasted their delicious cuisine. But stay tuned, I might come up with a second part, featuring many more places to do full justice to our Mexican food.
---
Want to see Mexico beyond its food? Spice up your trip with a complete Mexican themed travel experience